I am a big theme scrapbook supply buyer… but not so big on actually USING the materials. I don't know what it is, but as soon as I see some cute Christmas patterned paper, or Christmas embellishments, or Christmas ANYTHING, my heart starts to race a little bit harder. Maybe it's the little kid in me that gets so excited about the holidays! I don't know, but it's definitely becoming an issue.
After all, there are only so many Christmas scrapbook layouts and Christmas cards one scrapper can make!
Now, I think I've found a solution. The answer is to purchase Christmas scrapbooking supplies that don't look exclusively Christmas. That way, I can use them for other purposes. Here are some of the lines I've seen recently that seem to fit the bill (note: These are all from Scrapbook.com. Click the link and it'll take you right there):
Graphic 45 Christmas Past Collection.
Graphic 45 – Christmas Past Collection – Deluxe Edition – 12 x 12 Paper Pad, BRAND NEW
I'm typically not a big vintage-y scrapbooker, but I can think of a lot of ways to use these cool papers. I like the brown-toned hue, and I can see using these products on some boy scrapbook pages as well as Christmas pages.
Echo Park Everybody Loves Christmas Collection
Echo Park – Everybody Loves Christmas Collection – Collection Kit, BRAND NEW
I'm kind-of sort-of in love with everything Echo Park, and this Christmas collection is no exception! The pink and red combo would be perfect to do some "love" pages, and would even carry over into Valentine's Day. The polkadots have me sighing with JOY, and the snowmen are way too cute! This is definitely on my to-buy list.
BasicGrey – Wassail Collection – Christmas – 12 x 12 Collection Kit
You'll be a-wassailing with joy with this gorgeous collection! The funky graphics are very versatile, and the forest green is definitely a year-round hugh. You'll think of a million and one uses.
Crate Paper Snow Day Collection Kit
Crate Paper – Snow Day Collection Kit, BRAND NEW
This is another collection on my wish list! I fell in love with the fun, happy colors and cute snowmen (I live in Boston now, so I get to buy as many snowmen as I want, right?). I can use this right into the summer.
Cosmo Cricket Mitten Weather Crafting Kit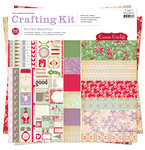 Cosmo Cricket – Mitten Weather Collection – Christmas – Paper Crafting Kit, BRAND NEW
No list of favorites would be complete without a little Cosmo Cricket, and this kit just makes me smile! The addition of lavender to the red and green mix really changes the whole look of the kit. I'll be ordering this one, too.
See? I've done it again! Fallen in love with WAY more Christmas scrapbooking materials than I could ever hope to use. Good thing I've picked items I can translate onto other pages. 🙂 That's my excuse, and I'm sticking with it!
P.S. Are you a themed product addict? Do tell! What's your weakness? Halloween? Christmas? Something else?